Web Design Built on Proven Marketing Strategies!

What Clients Say
home | web design samples | rates | about us | what clients say
"Working with Leva has been an outstanding experience. She completely surpassed my expectations. I'm pleased with the improvements on my website and the improved ranking. In just a few short weeks, I've obtained #2 position in Google for two of my keywords. Leva delivered beyond expectations while staying on budget and on time. I've talked to many web designers before working with Leva and the others only had a fraction of the knowledge and experience she has about internet marketing. I don't hesitate to recommend her to anyone, unless they are my competition!"
Fray Zerafat, Dentist Pacific Beach
http://www.dentistpacificbeach.com

"Leva has set up my initial website 6 years ago and has been updating the imformation regular to meet the ever changing schedule of my tennis classes and events. She recently redesigned the site in WordPress. I'm very happy with the new look, the improved SEO and her ongoing updates. The site is user-friendly and easy to navigate. I totally went for her suggestions because she is extremely knowledgeable about web design and understands what my tennis students are looking for when visiting the site. I appreciate her excellent work! I cannot recommend her highly enough and look forward to continue working with her."
Dennis Stojewa, Tennis Coach
http://dennistennis.com/

Thanks to Five Star Web Design, I have a clean, attractive website that is simple to navigate. Their technical expertise, responsiveness, and turnaround time are outstanding. In addition, their Internet marketing services and savvy and certain to drive traffic to your website. Five Star Web Design is truly a five-star company!
Virginia Lundgren
http://northcountywriter.com/
"Your service is phenomenal! To be honest I was real skeptical at first. Dealing with web site marketing and the Internet has been sort of a mystery to me. In the last year, I've dealt with several "Internet experts" only to be left with a bunch of broken promises and a smaller bank account. But you have delivered exactly what you promised and I'm blown away with all of the cutting-edge information you've delivered that I never knew before and a system that makes money online immediately! And I mean immediately! By applying your step-by-step strategies, all the bits and pieces started falling into place and within 48 hours. My web site was in three #1 and four #2 rankings with the major search engines .. and the money started rolling in! Will I continue to use your service? I'd be crazy not to!"
Mike Matthews
http://custommotorcycleappraisals.com/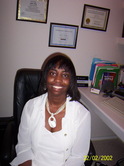 "The Ready-To-Go website has been very affordable and a great online marketing tool for my transcription business. Leva did a wonderful job on my website and I have received lots of compliments about the website. She was very nice and helpful throughout the whole setting up of my website. If you want a professional looking website for your transcription or virtual assistant business, Leva would be the person that I would recommend."
Shonta Moore – Moore Transcription Services, Houston,TX http://www.Mooretranscriptionservices.com/
"Leva made me a great web site and knows how to market it. I am now getting calls and clients on a weekly basis in addition to several compliments on the site. I have had web sites in the past that generated no calls at all which was very frustrating. Thank you, Leva, for doing what the others couldn't do."
Erin Field - Law Office of Erin M. Fieland, Enfield, CT
http://nowlegl.com/

"My Web site looks great! Your input, feedback, and consultation are priceless. They improved the marketability of my web site tremendously. I couldn't have put my business on the Web without you! You totally inspired me, Leva. Thank you so much."
"Leva set up my web site to sell my first ebook. She automated the complete process. When customers pay online, their payment is automatically verified and approved. When approved, they automatically get to the download page where they can get my book 24 hours a day. I had no idea how this process worked and where to get started. But Leva gave me clear and practical instructions on what information to provide her. She took care of all the technical issues. She converted my Word file into an ebook, created an ebook cover image, researched and set up my domain name and set up hosting. She also prepared the automated download, automated secure payment system and designed a fabulous, effective web site. I highly recommend her web design and internet marketing services. I made sales my very first week."
Alex Vandebril, Artist, Author of Catacombs in Rome.

"I appreciate your service so much I wanted to send in a recommendation: Recently, I contracted Leva Duell to help set-up a shopping cart for my web store. I work for a non-profit organization that is tight on deadlines and tight on finances. When I called Leva and told her what we needed she stepped-in right away and set up a beautiful and functional web store. Not only did she design and implement the store but she gave valuable tips on how to market the store to drive customers and sales to the site. Her services played an important role in making our store a success. I look forward to working with her in the near future. Thanks Leva."
Stephanie Voorkamp, Southern California Director
Not For Sale Campaign - www.notforsalecampaign.org
"I have worked with Leva Duell for over 6 years. As a result of her internet marketing services, we are on page 1 of Google for a large number of keywords. Leva is great to work with and I have entrusted her with my internet marketing - the most important revenue tool for my business. She is honest and fair and her web design and internet marketing skills are superb. I highly recommend her web design and internet marketing services!"
Daniel Wagner – CEO
http://www.NewLookMD.com
"Dear Leva, You have turned a mundane and boring web site into a masterpiece that is colorful, exciting, interesting and enticing. You work quickly and efficiently. In no time and with little effort on my behalf, you have made www.domesticpublications.com into a site worth viewing. Thank you so much for all your hard work, creativity and expertise. Best regards."
A professionally-designed Web site can double your sales! Give Yourself the Competitive Edge
With a Professionally-Designed Web Site!
Let me turn your text and graphics into
an easy-to-read and navigate Web site
that builds trust and generates sales.
Subscribe to Profitable Web Strategies Ezine
providing powerful, non-techie web design and marketing strategies to increase your web traffic and profits. Subscribe and get a FREE report, "10 Easy Ways to Boost Your Online Sales."
Contact me for a FREE consultation, evaluation and quote
(760) 722-0290
Or email me at Leva @ fivestarwebdesign.com